Explore
Indoor Play Barn
Watch little ones slide, climb, swing and crawl through the 2 storey equipment in our Soft Play Barn.  With a separate double storey area for under 5's you can relax knowing the tiny tots have a safe space of their own to explore.
Racing and pedalling one of our child's John Deere or New Holland tractors round the indoor track in our Play Barn is always a firm favourite with the children.
The 'Fodder Spot' is our cafe in the Play Barn.  It's open all year round and serves hot and cold drinks, ice creams, cakes, freshly baked Belgian Waffles and Sandwiches, Panini's and Oven Baked Jacket Potatoes.
Indoor Activity Centre
Play, dig and excavate in our giant Sand Play Room
Swing, climb, slide and roll round our indoor Swing Barn full of straw
Toddlers can crawl, climb and safely tumble around our huge Toddler Play Room with cushioned safety flooring and you can chill on our comfy sofas
Outdoor Fun
When you take a stroll around our farm, keep your eyes peeled for charming carved wooden characters from a very popular children's book!  Which character will you spot first?  Will they have 'purple prickles' or will you find the mouse, or snake first?   A sure place to start your search for  a naughty fox is near our chicken pen, head over to our Falconry Centre where naturally you'll spot a very different kind of owl.
Children love bouncing and giggling away the hours on our fabulous Jumping Pillows, and with one pillow just for under 5's to enjoy you can relax knowing older children are safely bouncing on the larger pillow  right next door.
Older children (6+) can climb, slide and swing their way around our massive outdoor Woodland Play Tower area
The Tattershall Peaks Climbing Wall, is a Challenge children of all ages love to take on.  Will they make it all the way to the finish?  We really don't mind, as long as everyone is having lots of fun!
Exploring the adventure trim trail, or zooming down our 35m Zip Wire – Children love to explore all of our outdoor play!
Everyone (even the grown ups) enjoy banging, crashing and 'Boom Whacking' their way around our sensory music area, and Splat the Rat, Coits, Toss the Ball and our Face Wall are all firm favourites too!
Younger children love the Big Red Tractor in our outdoor Toddler Play Area too.
Animal Fun – Get up close and get involved
Feed our farm animals as you stroll round the barn or beautiful Animal Trail where they live
Get up close to some rare and unusual breeds like our Lincoln Long wool, Kerry Hill and Hampshire Sheep, and say hello to our friendly Highland Cows.  Watch our cheeky goats climb over the bridged and platforms that form 'Billy Goat's Gaff'
Watch as our keepers care for our animals, you'll see them on their way round the farm -feeding and mucking out as they go.   You can't work in our Animal Care team without being passionate about animals, so please feel free to stop them and ask any questions you may have, they will ALWAY be happy to chat.
Be sure not to miss out on our Falconry Flying Shows (running every day except Monday's).  With different birds flying at 11.30am and 1pm you'll have an experience you won't forget!
Eat with us!
Every item on our menu is prepared using fresh, local and tasty ingredients.
In our Bistro we offer family favourites like Bangers and Mash and Chilli Con Carne, alongside burgers seasoned and hand pressed in our kitchen and cooked just for you.  Our chefs prepare traditional sourdough thin crust pizzas in the kitchen too!  If you choose to eat in our Licensed Bistro, you certainly wont be disappointed!  Whether its loaded chunky chips, salads, scampi of a delicious Ploughman's that tickles your tastebuds we have something you are bound to love.
In our Play Barn we serve freshly prepared sandwiches with home made coleslaw filled with ingredients like our freshly baked gammon ham.  We also serve oven baked jacket potatoes and delicious panini with fillings like bacon, brie and cranberry. Whatever you order, wherever you sit down to eat, we always take real care to ensure the food we serve is good quality and really tasty.
On busy summer days, you might just want to grab something quickly and go.  Thats when you would head to our 'Snack Hatch'.  No one wants to queue, so we've got 'The Snack Hatch' serving quick, tasty, take-away food and drinks –  its the perfect place to pause for food on the run while you're having fun!
'The Sweet Spot' our very own Shepherds Hut Ice Cream Parlour, located near our Jumping Pillows serves fabulous Freakshakes, delicious freshly baked Belgian Waffles, Sundae Trays, Soft Serve cones and more!  If you have a sweet tooth, we're guaranteed to delight you!   Don't worry if you visit in the winter, our Farm Park Sweet Specials will be be available in both the 'Bistro' and 'The Fodder Spot'
Bring a Picnic
Only food bought in our 'Bistro' or 'Fodder Spot' can be eaten there, however there are lots of picnic tables for you to use around the farm.  When the weather is fine why not bring a rug or blanket and eat your picnic on the grass under a tree.
On grey days, take your picnic inside to the picnic benches in our Indoor Activity Centre.
Shop
Our shop 'Lots of Lovelies' is bursting with a brilliant selection of toys, gifts and items from local talented crafts people.From affordable pocket money items to famous brand names like Peppa Pig, Peter Rabbit, and Paddington Bear, our gift shop has something to suit every budget.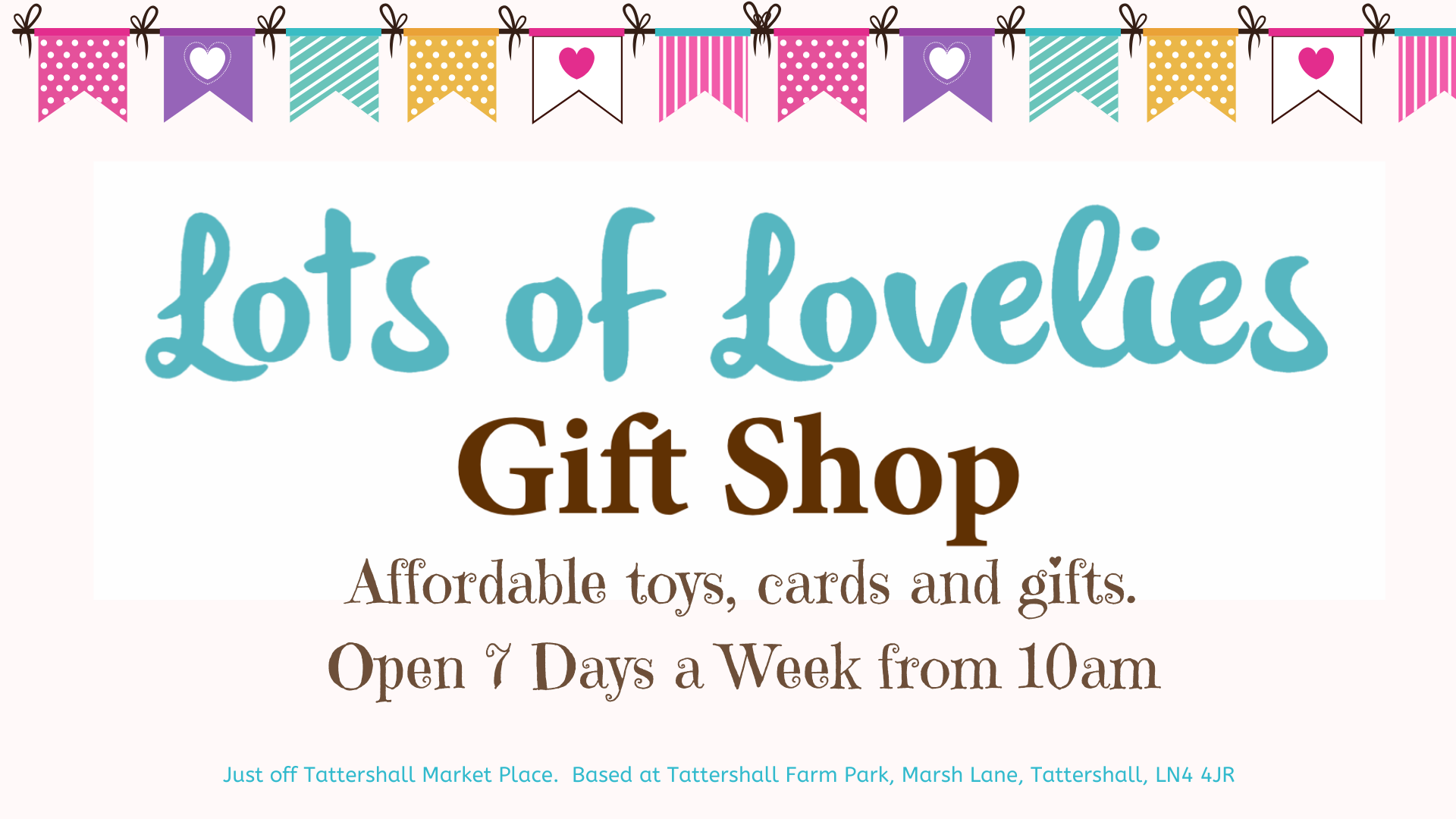 We've got tractors, traditional wooden toys, dinosaurs and some beautiful seasonal gifts too.
We've chosen the items in our gift shop very carefully (in fact we only stock things we love and think are good value) so we're sure grown up's will love browsing a pretty range of items from Gisela Graham, Wrendale, and home-made fudges, jams and chocolates too.
With beautiful scarves, pretty crockery and tin-ware, stationary, mugs, cards, funny plaques, pottery, hand bags and candles.
We have every thing you could need for that perfect present, and all at affordable prices too!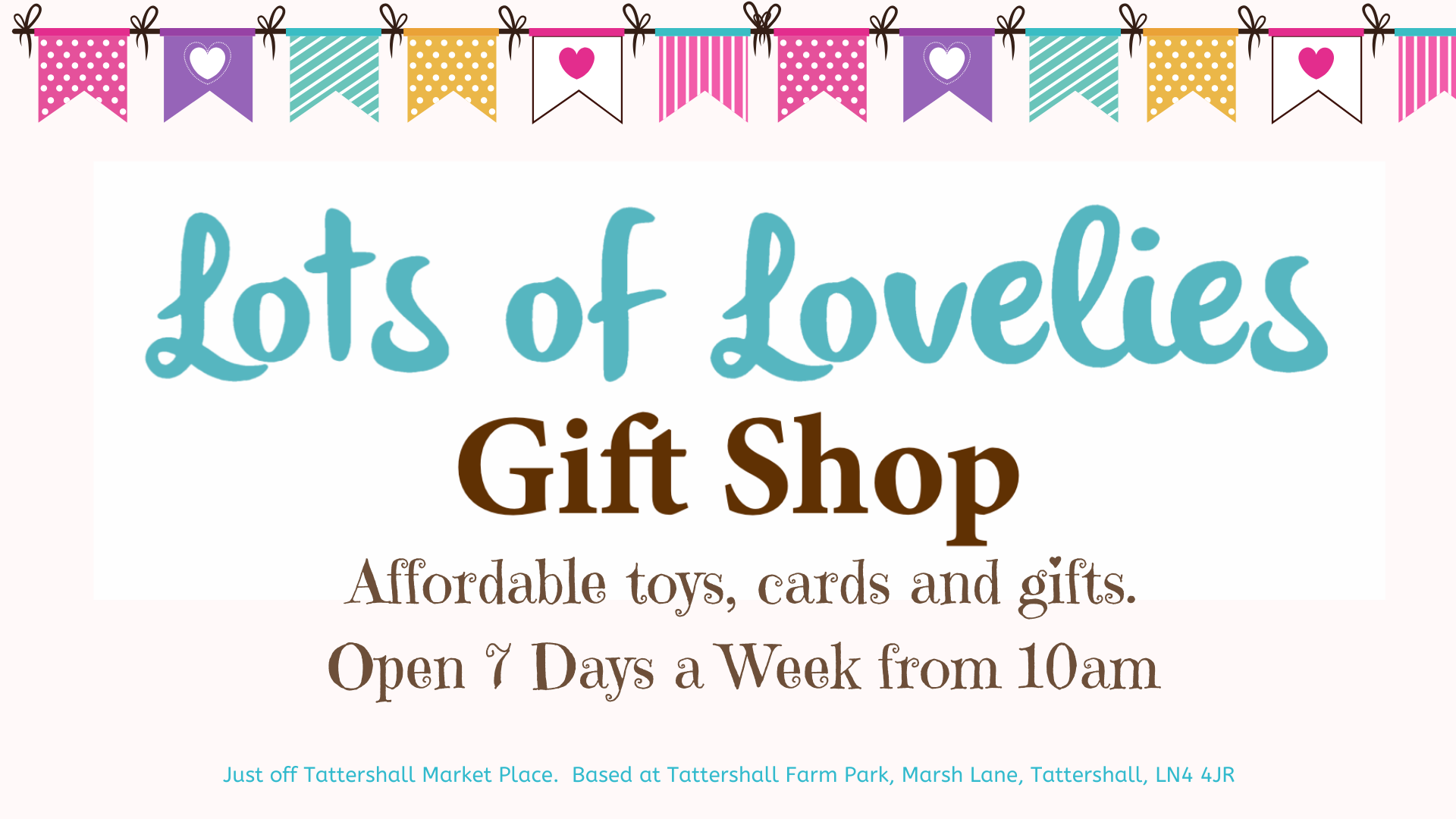 Gallery More Photos of Our Farm Park Gallery